Hi everyone!
Today I'm linking up for the Kinder Tribe's first linky party, All About This Kinder Teacher!
Click on the image below to learn more about the linky and how you can link up too!
For those of you who don't know, Kinder Tribe is a Facebook page and blog for Kindergarten teachers to collaborate with other Kinder teachers!
I am an admin for the blog and have been loving meeting lots of like minded kinder teachers!!
We are a new group so this linky is intended to help us learn more about each other!
You can see my answers to the little questionnaire below :)
Years Teaching/Years in K: 3/2
I was a supply (substitute) teacher for a year when I first got hired with the board and then have had 2 year-long Kindergarten contracts. I am not a permanent teacher with my school board so I have to apply for a new job every summer... so I don't know what I'll be teaching yet this coming school year! But I'm REALLY hoping to stay in K!
I Can't Live Without My: Coffee & iPhone
But I take my coffee with A LOT of cream and sugar!
My friends always make fun of me when we go out for breakfast...
This image describes how I take my coffee..
Favourite School Supply: Flair Pens
Like many teachers I LOVE flair pens! I color code by subject, semester.. etc!
I really want these new limited edition tropical colours but I haven't seen them in Canada yet :(
Favourite Kinder Book: ish by Peter Reynolds
I love this book because it helps to teach my kinders that there is beauty in every piece of art work! When I hear "I can't do it" or "I can't draw" when I'm teaching writing, I always use this book to show them that everyone is an artist!
I love Peter Reynolds other books like "The Dot" too!
Favourite Kinder Blog: The First Grade Parade by Cara Carroll
Cara was one of the first bloggers I followed and back then she was teaching Grade 1. I was so excited when she moved back to Kinder! I love all her cute, hands-on ideas for teaching! She is super famous but if you don't know her you can check her out by clicking the button below!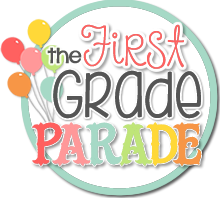 I Love Kindergarten Because: You See Such Amazing Growth!
There aren't too many other grades where the kids go from not being able to sit criss-cross apple sauce to being readers by the end of the year!! It is amazing to see the growth every year and I feel so proud of them, especially when they start reading!! I love it!
That's it from me!
I hope you hop on over to the Kinder Tribe blog and link up too!